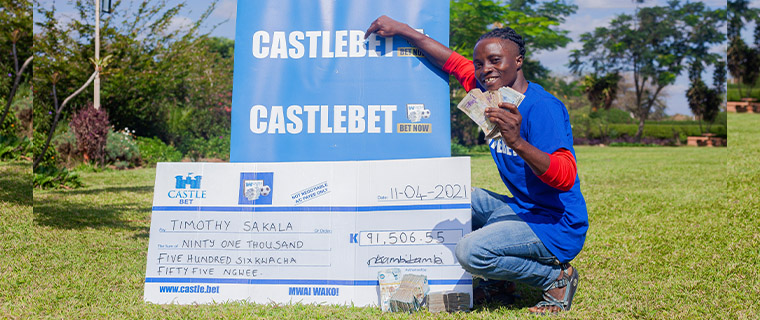 TIMOTHY SAKALA A BARBER MAN FROM CHAWAMA WINS K91,506.55 FROM K7 STAKE!!
Yet another fantastic win from a loyal CASTLEBET KING Mr Timothy Sakala, a hard working youth from Chawama township in Lusaka!
Mr Sakala, a talented and hard working barberman aged 30 from Chawama township, managed to score a big win of k91,506.55 from a bet with ONLY 11 teams and a stake of ONLY k7.
WATCH THE VIDEO BELOW TO HEAR TIMOTHY'S STORY.
When asked how he felt about the superb winning he said:
"Yesterday I noticed that my CASTLEBET account balance increased by K91,506.55 at around 22:00 last night but I could not believe my eyes!
From that moment, until now I still cannot believe that I am the lucky man today! I have not been able to have any sleep, my mind has been racing because of this!
CASTLEBET! You have changed my LIFE!"
When asked how he planned to spend his huge bag of cash Mr Sakala shared with the castlebet team that he's aim is to make sure he has a place to live with his family.
He also intends to boost his business by buying new equipment for his shop and also opening a new barber shop outlet in Chawama.
Timothy Sakala has been a loyal Castlebet customer for over 1 year and has enjoyed all of the CASTLEBET services most especially:
1. The simplicity of the platform on castlebet lite.
2. The great odds that allow him to win big.
3. And the excellent multi-bet boost that gives him an extra push in his winnings.
Mr Sakala made his smart bet selections early Monday morning when he went to his barber shop.
He selected 11 teams and decided to use the match result option on all of the 11 games with odds of 13,072.36.
His ticket also had a general winning of k61,006.75 and because he had 11 games on his ticket,
CASTLEBET provided a generous multibet bonus of k30,499.85 to support his brave and courageous bet, thereby bringing his potential winning to a huge k91,504.55!
Be brave and take the chance to be our next celebrated KING/QUEEN
#MWAIWAKO!